Hello people!
First the good news: There is a camp area! And it is even just on the outskirts of Garmisch-Partenkirchen – and thus very close to the Great Demo!
There are some catches and caveats however which we want to point out as early as possible – so now.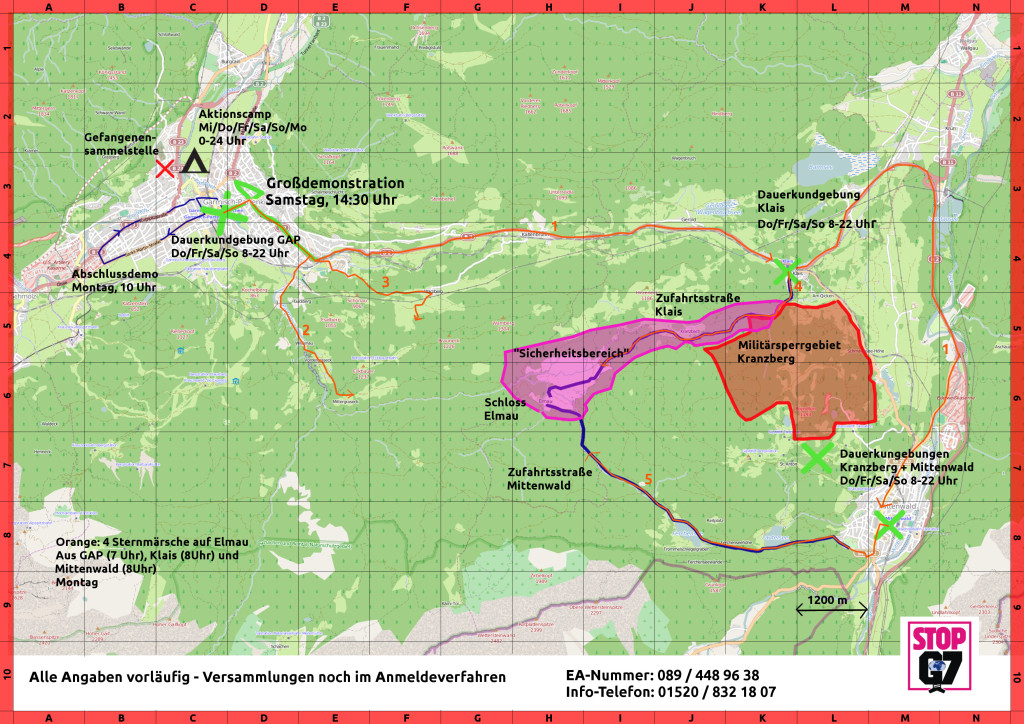 . 1
The situation is still very unclear. In a press release, the authorities have announced their intention to prevent camps anyway, and that they keep the area found to be unfit. Therefore: Be fully equipped, with own tent, sleeping bag, mattress, and prepared for it, even confrontational, so "wild" to go camping in doubt.
. 2
The area is for many people who we expect quite narrow. Imagine it maybe one, but to sleep in a large tent, because there are just not enough space for all private tents – but you do should have this anyway!
. 3
Because of space problems, we can not provide parking – and Garmisch is a relatively small place that will be plugged in these days even with cops and rescue teams. Although private cars can for the actions still to be very useful, but provides you an on having parking difficulties and they may be far outside permit!
. 4
Due to the extremely uncooperative authorities and the difficult external situation, the camp will include only a minimum infrastructure and likely uncomfortable. Trying as much as possible to be equipped to provide you in doubt itself can. Accessibility we can not guarantee!
In solidarity,
Your camp-AG
Packing List:
Checklist for the G7 Camp
What you definitely need:
· Tent or sleeping place in a tent
· Sleeping bag, mattress and tarp to put underneath (for sleeping place in the large tent)
· Solid footwear / hiking boots (Garmisch is in the mountains)
· Small first aid kit and 1 bottle of still water 500ml (recommendation of the demo medics)
· Biodegradable soap for body care
· Garbage bag / bags
· Flashlight
What we recommend:
· Identity card / health insurance card
· Sun protection and rain gear
· Personal medicines, mosquito repellent
· Toiletries and toilet paper
· Change of clothes
· Small snacks for the road
· Spare battery / external battery for mobile phones because we can not ensure a continuous power supply
What should bring her in no case
· Any kind of illegal (itself buildup in Bavaria prosecuted) intoxicating substances
· Anything that can be construed as active or passive arming
· Dogs